Fragrance Gift Box
Regular price
Sale price
£50.00 GBP
Unit price
per
Sale
Sold out
You've found your favourite Young Mary's fragrance but can't decide if you want a candle, oil diffuser or some wax melts? Why not have one of each?
Packaged in our luxury kraft gift boxes, each Young Mary's Fragrance Gift Set includes:
a Standard Signature Collection or African Wonders candle
100% soy wax melt and tarts
100ml Fiber reed oil diffuser
Fragrance profiles:
Alexandria - Lily of the valley
Côte d'Ivoire - Chocolate fudge
Fez - Spicy Tonka
Kano - Sandalwood 
Lake Victoria - Peppermint
Lesotho - Cool Pine 
Madagascar - Cinnamon spice
Maputo - Seaweed with berries
Tunisia - Citrus burst
At Young Mary's all of our products are handmade in small batches using the finest quality materials available. Our standard Signature Collection candles have an average burn time of over 45 hours with proper use while our standard Ebony & Ivory African Wonders candles have an average burn time of over 35 hours with proper use. 
Inspired by the sights and sounds of Africa, each of our candles is made using specially blended wax that offers a creamy and luxurious appearance. All of our products are also infused with fragrances containing natural essential oils. At Young Mary's we help you escape the noise and chaos of modern life by filling your home with unique scent combinations that transport you across the world, to the Motherland itself.
Materials

Blended vegan candle wax

100% cotton braided wick

Fragrance oils

Essential oils

Travel candles - round welded side seam rose gold tin

Signature Collection - glass jar with glass lid

African Wonders Collection - glass jar and rose gold aluminum lid with silicone insert
Dimensions

Travel candles - 45mm x 65mm
Ebony candles - 90mm x 80mm
Ivory candles - 90mm x 80mm

Standard candles - 120mm x 80mm
Large candles - 120mm x 110mm
Wax Melts - 110mm x 70mm
Oil diffuser - 260mm x 70mm




Share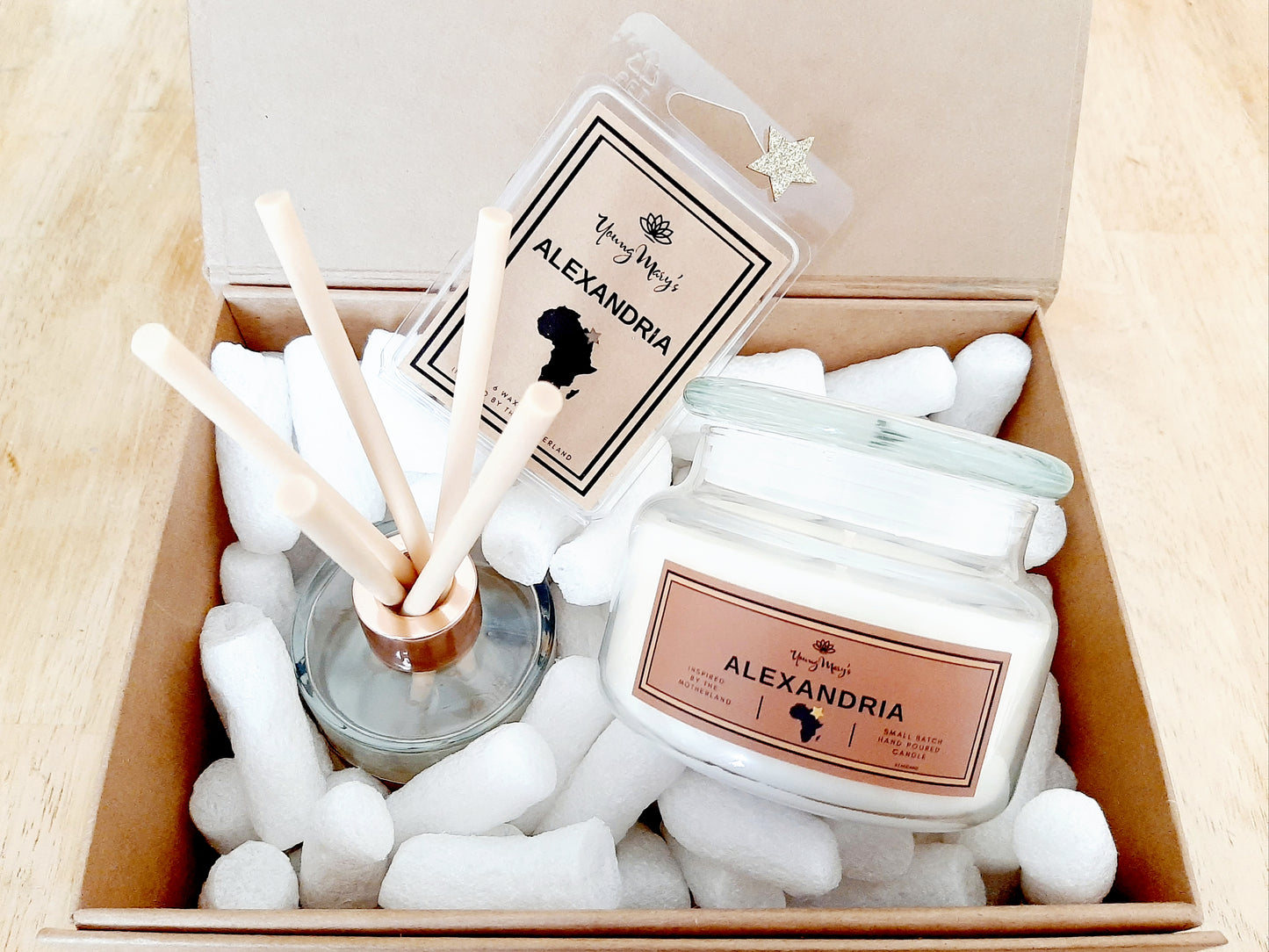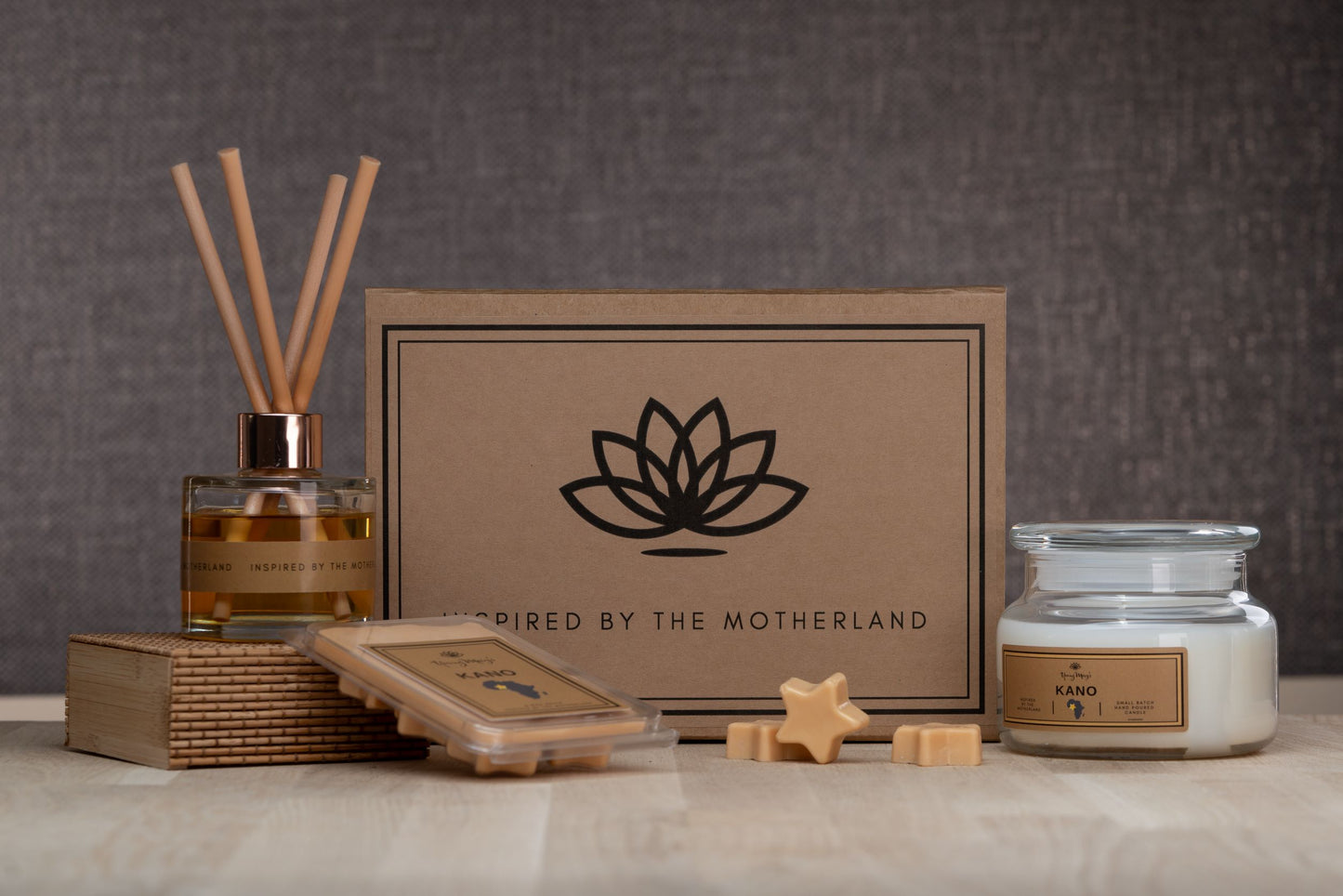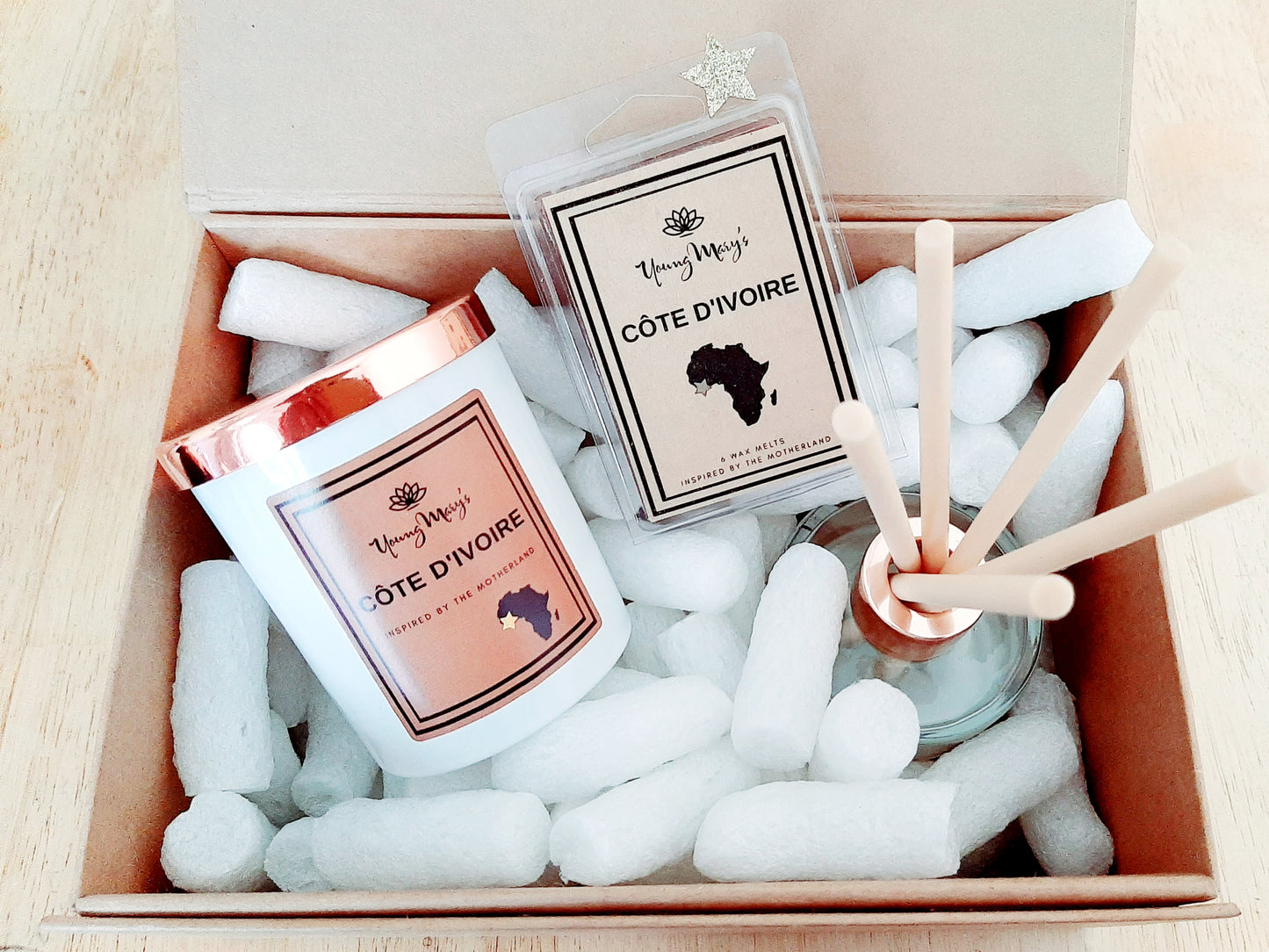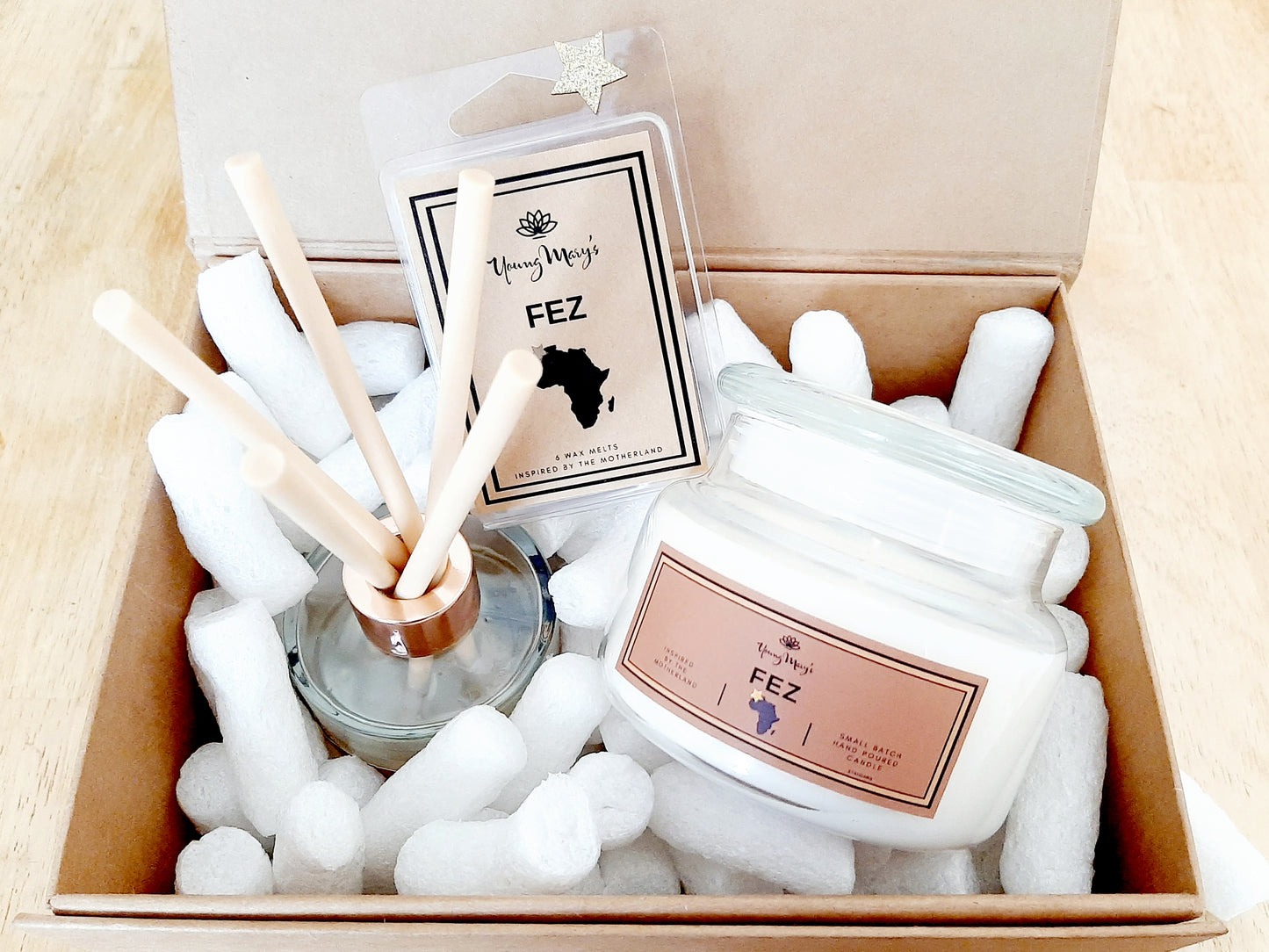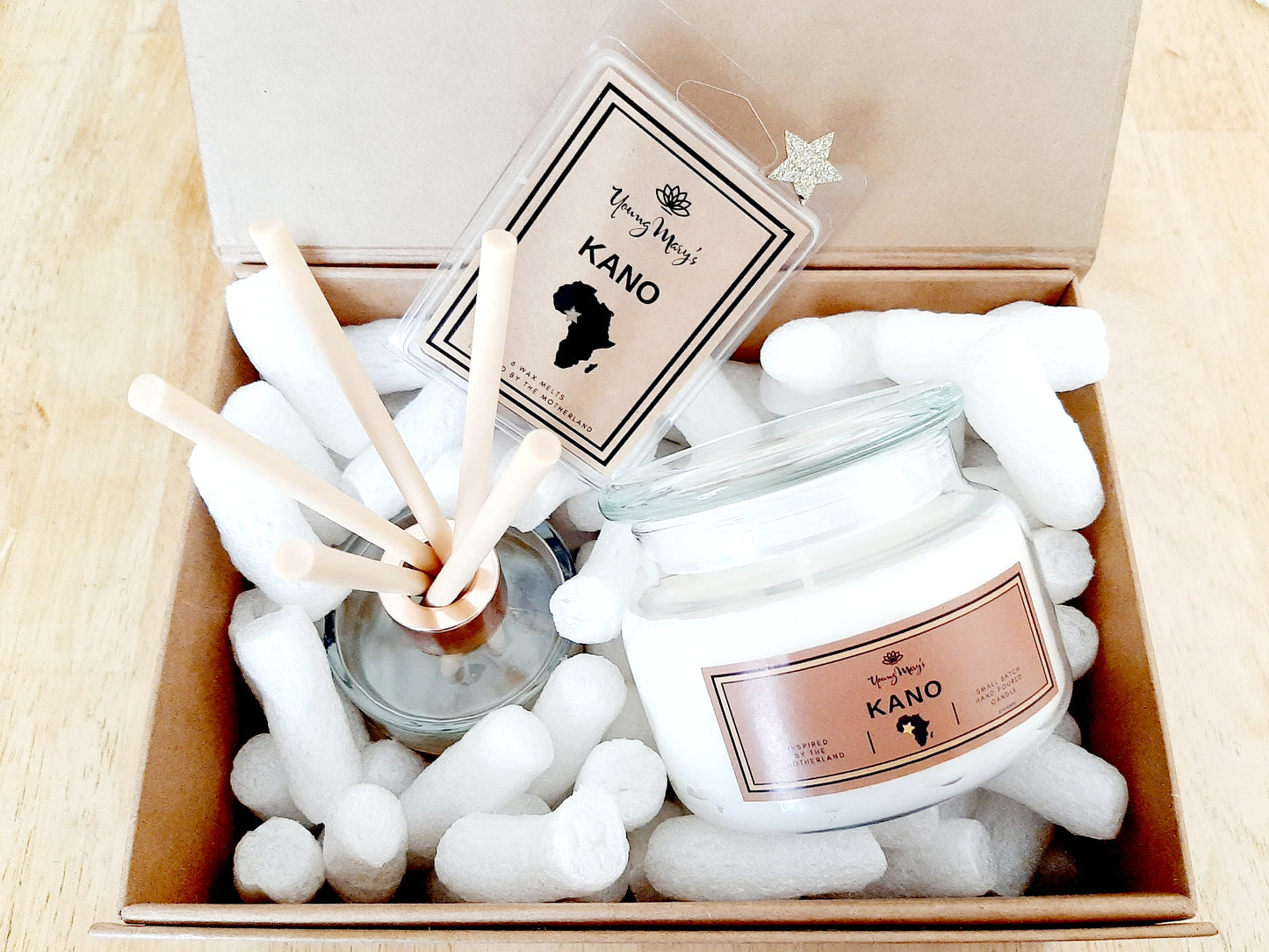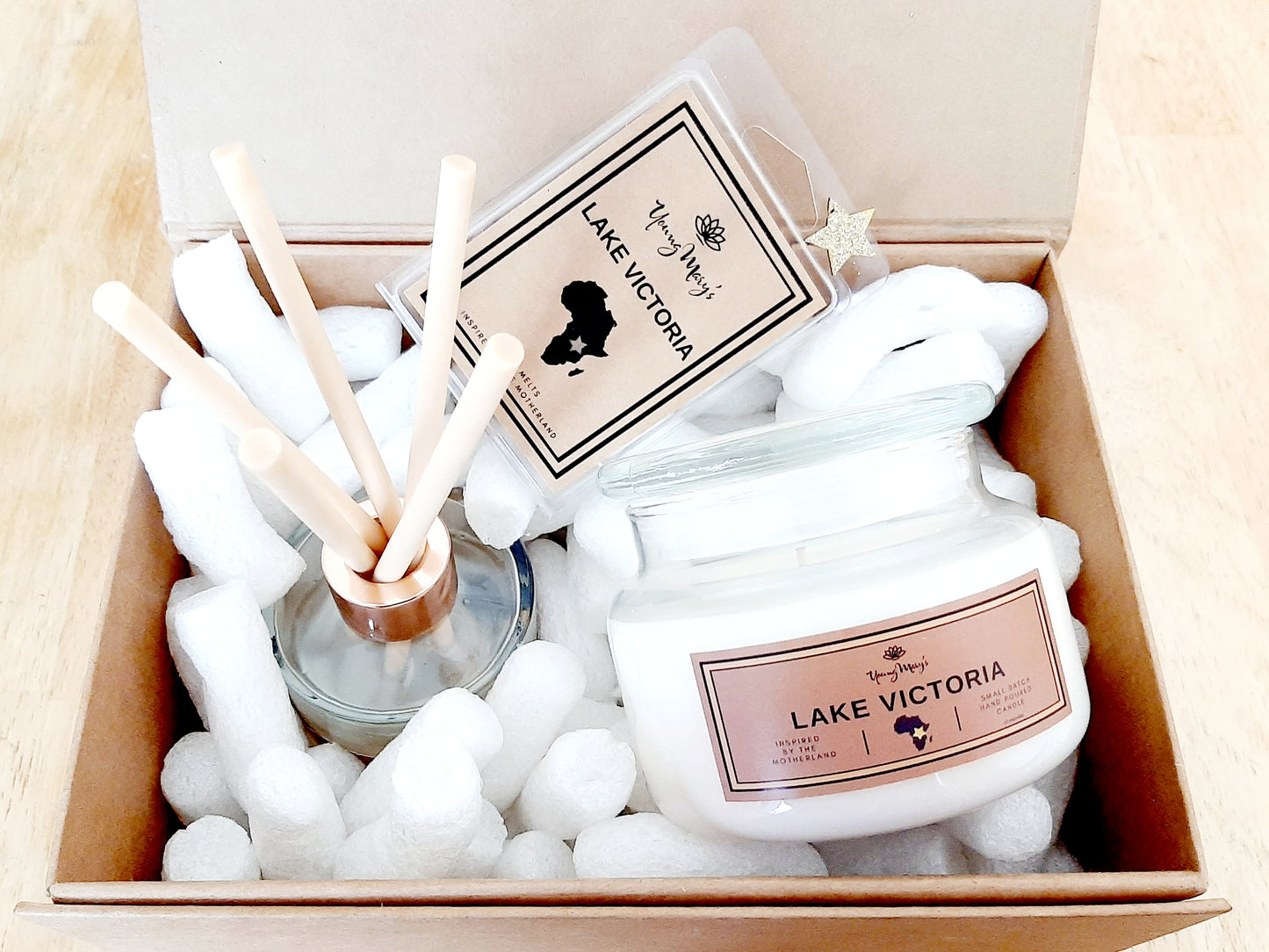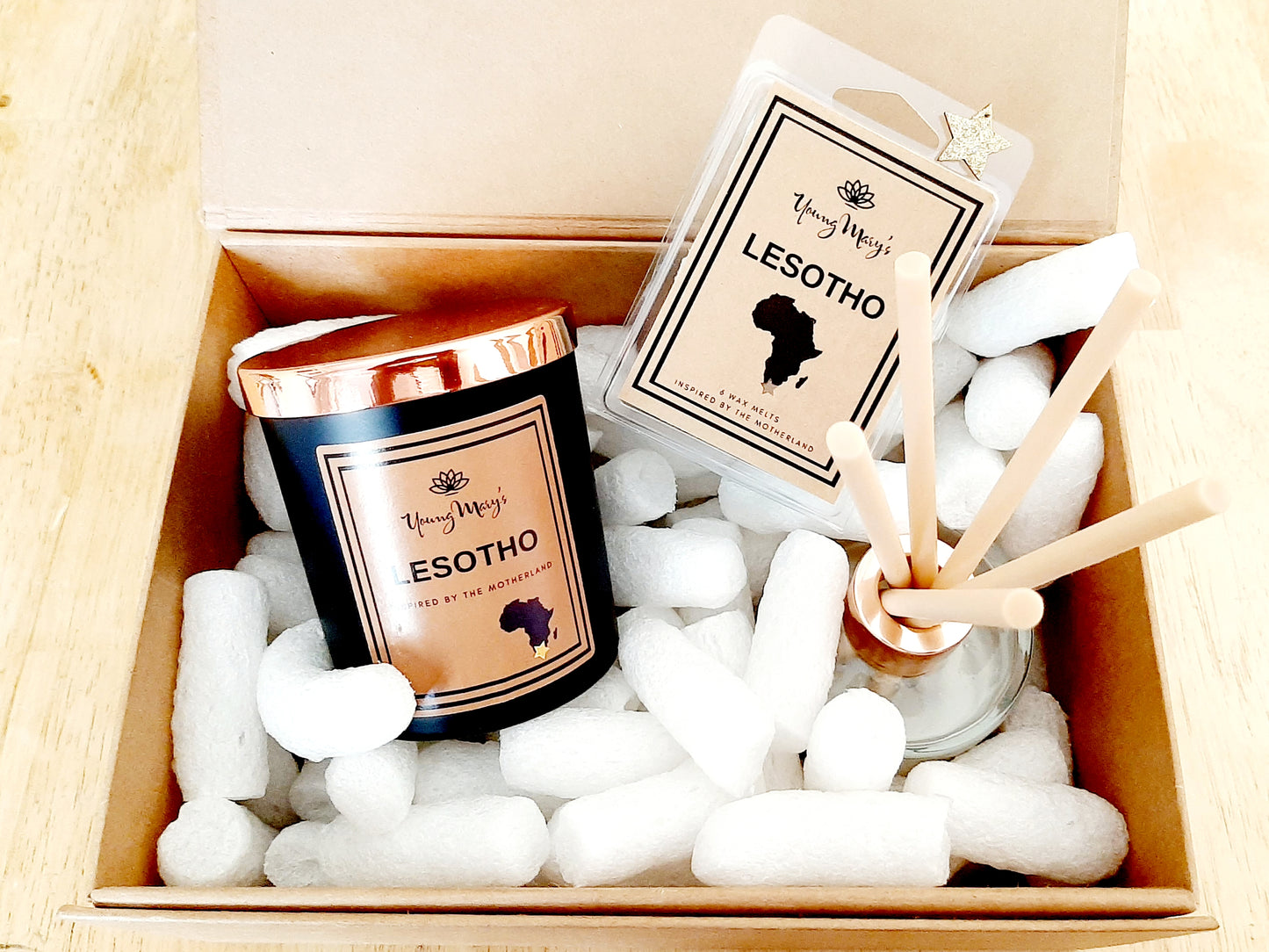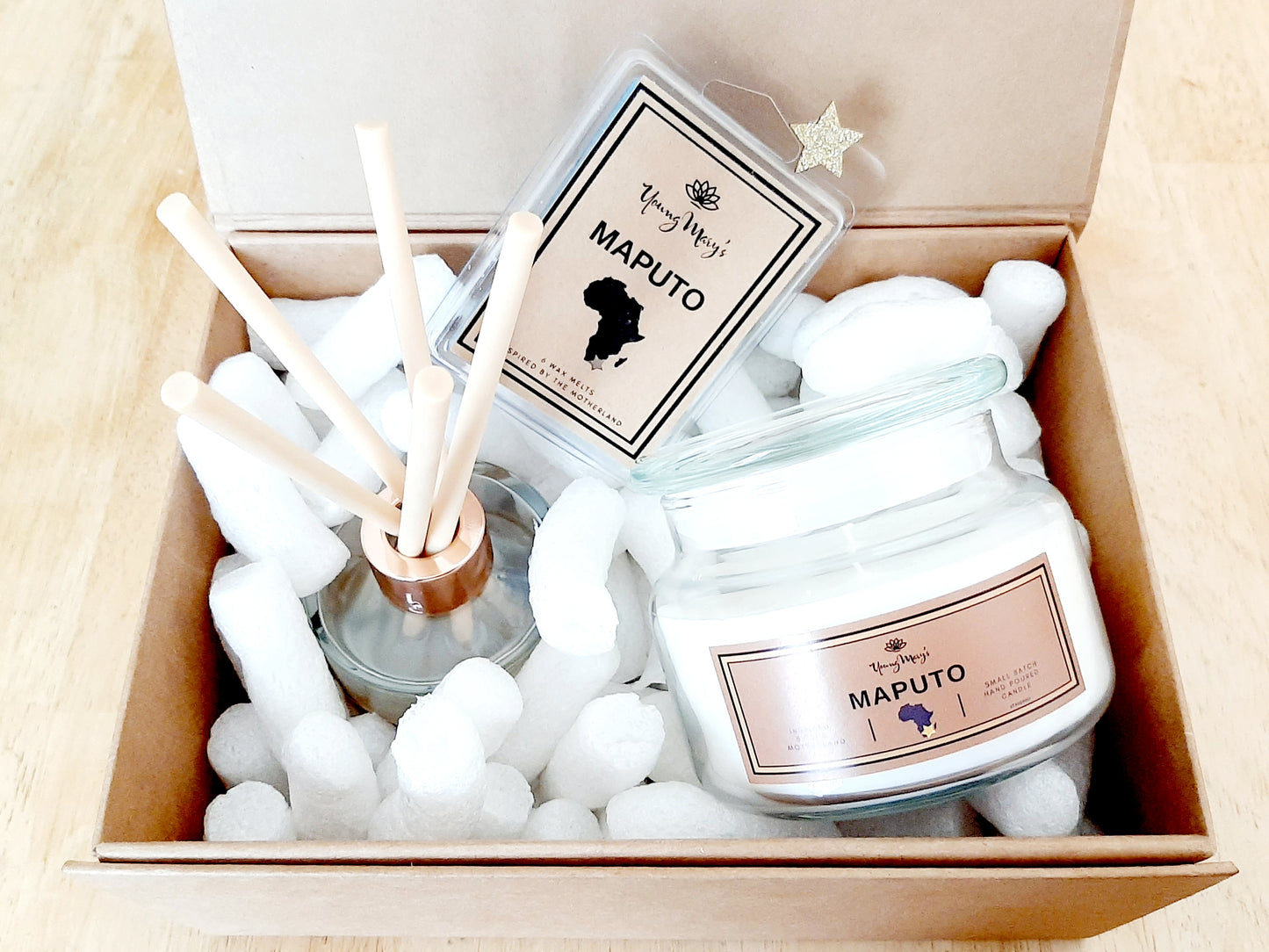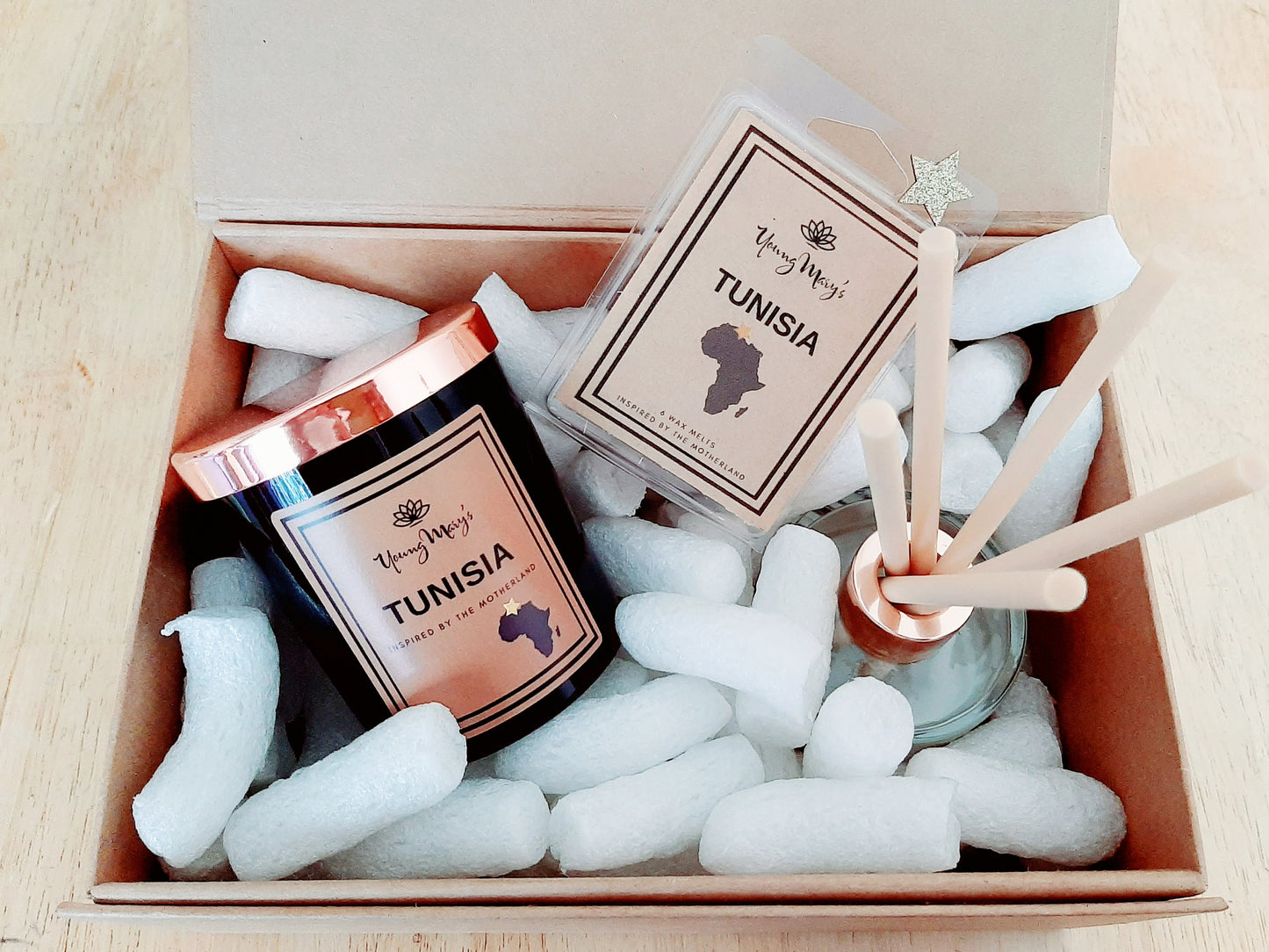 These gift boxes are AMAZING, as is absolutely everything Lola and the team sell at Young Mary's. I'm thrilled to finally write a review after being a customer for such a long time. I have bought many a candle form a variety of places, and hands down, none are as fragrant and aromatic as my candles from Young Mary's. My favourites at the moment are Lake Victoria (for my bathroom) and Maputo and Kano for around the house as well as Tunisia. The customer service is second-to-none as is the quality of the products. I always appreciate the sweet handwritten notes that come with my order and the care taken with the packaging. I've bought candles, oil diffusers, wax melts and the stands and every product has been created with love and care and it shows. Thank you Lola and long may Young Mary's reign! Thank you for adding some candlelit joy into my home and a reminder of the Motherland! Until the next order!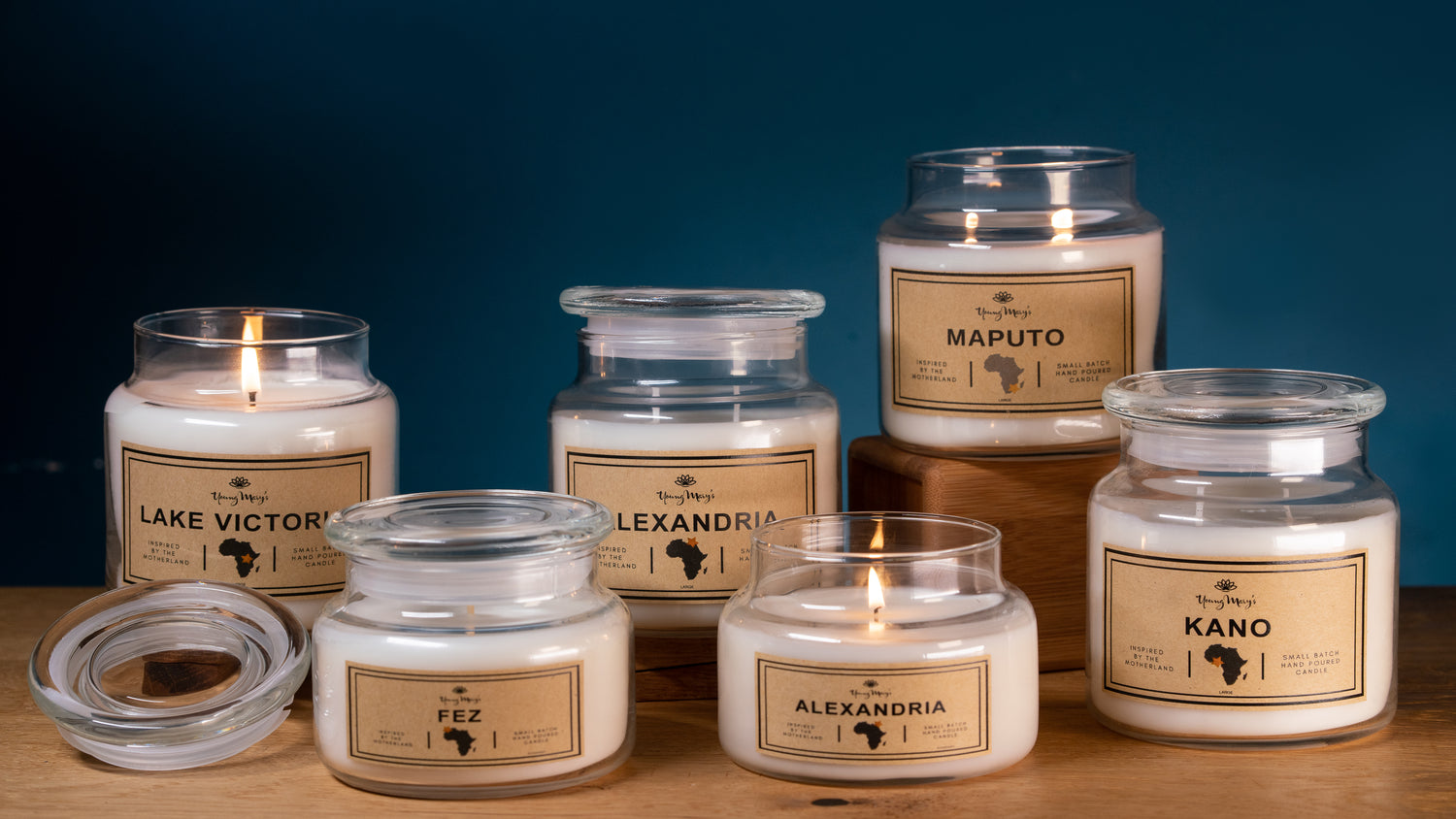 At Young Mary's...
We have one mission, to help you escape the chaos of modern life by filling your home with one-of-a-kind scent combinations that transport you across the world.
#lightamatch • #strikeaconversation